Water (Shortages)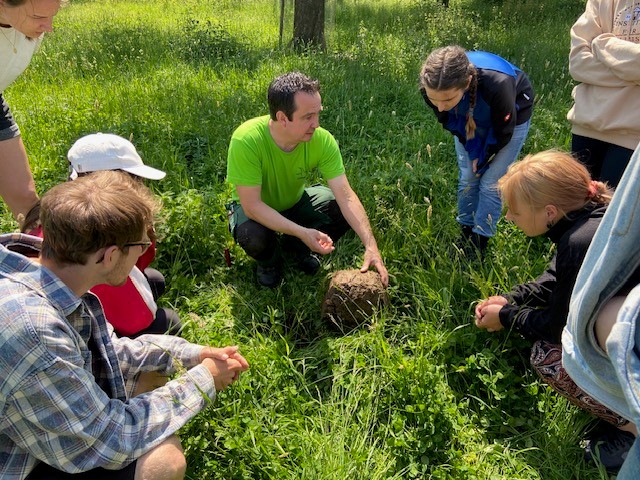 In a three-day seminar from May 31st to June 2nd, 20 students from a wide range of disciplines dealt with topics related to water and water shortages. Prof. Dr. Frieder Enzmann introduced the participants to hydrogeology on the first afternoon of the seminar. The students not only learned about the water cycle, but also about terms such as soil and groundwater, groundwater landscapes and aquifers, as well as aquifers/non-conductors and groundwater properties. On the following day, Dr. Thomas Lenhart continued with the geological perspective and spoke about water supply, precipitation and groundwater in Germany...
---
Q+Reads with Emily Nemens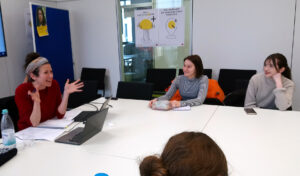 On January 26th and 27th, 2023, Emily Nemens attended the Q+ program as part of the Q+Reads event. The event takes place every semester in cooperation with the Picador Professorship Program. The seminar started with a public reading of her debut novel The Cactus League, which was published in 2020, followed by a Q&A session. Nemens accompanied the reading, in which she presented parts of three chapters, with images of the setting of her novel, the city of Scottsdale, Arizona, and Salt River Fields, which opened for baseball spring training in 2011. The students had little prior knowledge of baseball. But through the story, driven mostly by unique and beautifully drawn characters, the unknown became familiar and the sport understandable even without conceptual knowledge...
---
Big Thoughts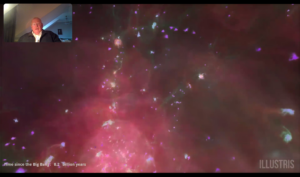 Over the course of our lives, we learn about many discoveries that shaped and changed our everyday lives. But how do these discoveries come about? In the Q+ seminar "Big Thoughts," we dealt with the initial 'idea' behind an important insight or discovery. Together with professor Dr. Hans-Ulrich Gumbrecht and Nobel Prize winner professor Dr. Reinhard Genzel, we attempted to find answers to the following questions: How does a big thought emerge? What is required to put this thought into practice? And most importantly: What is a big thought? On the first day of the seminar, Hans-Ulrich Gumbrecht from Stanford University gave his proposal for a working definition of the topic "big thoughts" and asked for responses. To that end, he asked the questions that would become the guiding thread for the following days: What is a thought? What are big thoughts?
---
The Amazon: Crucial Element for World Climate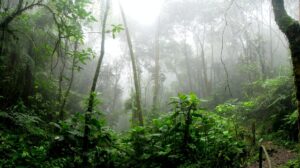 From January 12 to 13, 2023, fifteen students from fourteen different majors took part in the Q+ course "The Amazon: Crucial Element for World Climate." On the first afternoon, Brazilian historian Joao Dias introduced the participants to the history of Brazil. His lecture began with indigenous inhabitants some 20,000 years ago, but focused more intensely on colonial history, beginning around the year 1500 with the Portuguese discovery of Brazil. Economic developments were at the center of the lecture, as Brazil achieved global relevance due to trade in so called brazilwood and later sugar cane. These were accompanied by the enslavement of African people at a scale which far exceeded the North American colonies and later USA. The drastic consequences of colonization...
---
JG|ender|U – Gender Studies at JGU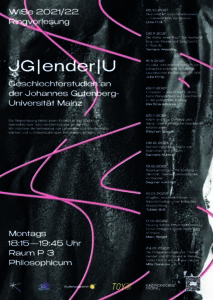 The public lecture series "JG|ender|U – Gender Studies at JGU", offered for the first time during the winter semester 2021/22, showcased the work of researchers from different disciplines across JGU on the subject of gender. The goal of the series was to highlight and discuss different perspectives on gender studies at Mainz, as well as stimulate a public debate, network instructors and students, and raise the topic's profile. This first lecture series is to serve as a foundation, to be expanded upon in the future. The next lecture series is already in development.
After an introductory session led by Julia Reichenpfader, which familiarized the students with the concept of intersectionality and invited them to reflect on their own points of intersection, nine lectures by researchers inspired spirited discussions.
The lectures started with Livia Prüll (Medicine), who gave a lively and personal talk on...
---
Forest in Distress – Climate History, Climate Change and Consequences of Current Developments on our Forests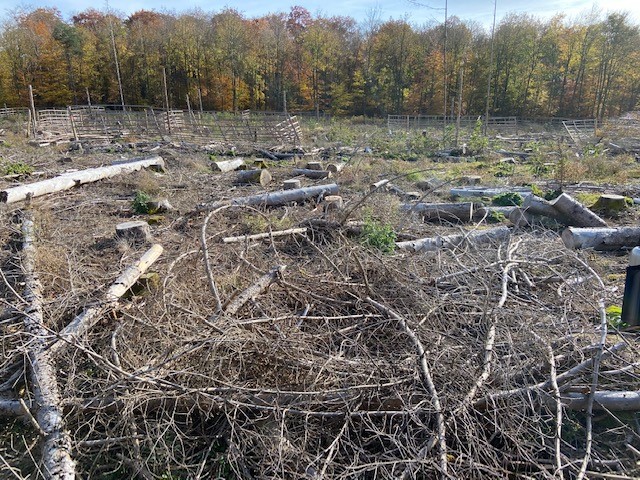 If we consider these quotes, it becomes clear that poetry and philosophy offer plenty of metaphors to describe the relationship between human and nature. If we want to approach the topic from a scientific point of view, we have to ask what the current state of our forests is. Is there a forest decline, a "Waldsterben 2.0", and what developments can we expect? To answer these questions, 18 students from 12 different disciplines took part in the Q+ seminar "Forest in Distress". On the first day of the seminar, these students acquired theoretical basics, and on the second, they hit the trail to the forest.
The seminar was conducted by Dr. Claudia Hartl, Geography, and Dr. Michael Weber, Geoscience, as well as Andreas Wennemann, manager of Rhein-Taunus Nature Park, and three district foresters and interns. During the first session, Dr. Weber gave a talk on climate change from a geoscientific perspective. ...
---
The Final Path: On Dying and Grief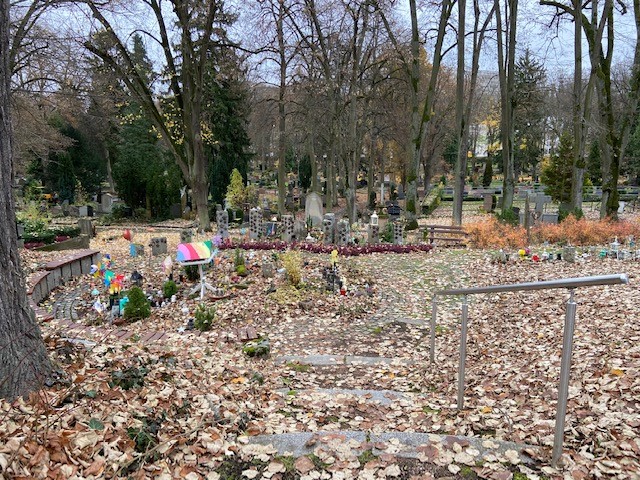 Between November 9th and 16th, 2021, seven Q+ students from seven different disciplines took part in an unusual seminar: "The Final Path: On Dying and Grief." It was forseeable that this course might become more than educational, but also very personal. Nevertheless, or perhaps just for this reason, we all decided to deal with these issues that are usually inaccessible and taboo in everyday life. In the space of eight days, we were facing four dense all-day workshops, which would lead from dying to burial rites to the bereaved's coping behavior.
The first part focused on dying. The head of the pallitative care unit at University Medical Center Mainz Prof. Martin Weber explained the process of dying and spoke about his professional experiences with dying persons and their relatives. Next, ...
---
Wine as a Scientific, Historical, Economic and Sociocultural Factor: From the Grape to the Barrel to the Bottle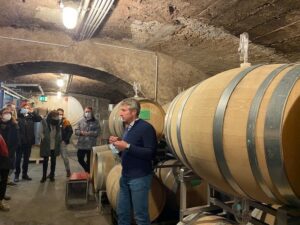 Fifteen Q+ students from fourteen different disciplines took part in this seminar, which was organized by Q+ student Dominik Schöffling in cooperation with Dr. Doris Lindner. The first day took place at the distinguished Künstler vineyard in Hochheim on the Main. Here, Prof. Dr. Hans Reiner Schulz, president of Geisenheim University, gave a detailed introduction to enology, the science of wine. Among other topics, he spoke about the origin and distribution of local wine types, and discussed factors like resilience or taste on genetic, chemical, and practical levels.
Next, Simeon Guthier, researcher at the Institute for Historical Regional Studies at Mainz University, briefly summarized the history of viticulture, offering fun facts such as the over 20 kg heavy "syringes", i.e. devices used to inject powdered sulfur into the soil. Short presentations by Q+ students followed, as...
---
Snapshot-Internship "European Religious Peace Agreements - A Digital Edition (EuReD)"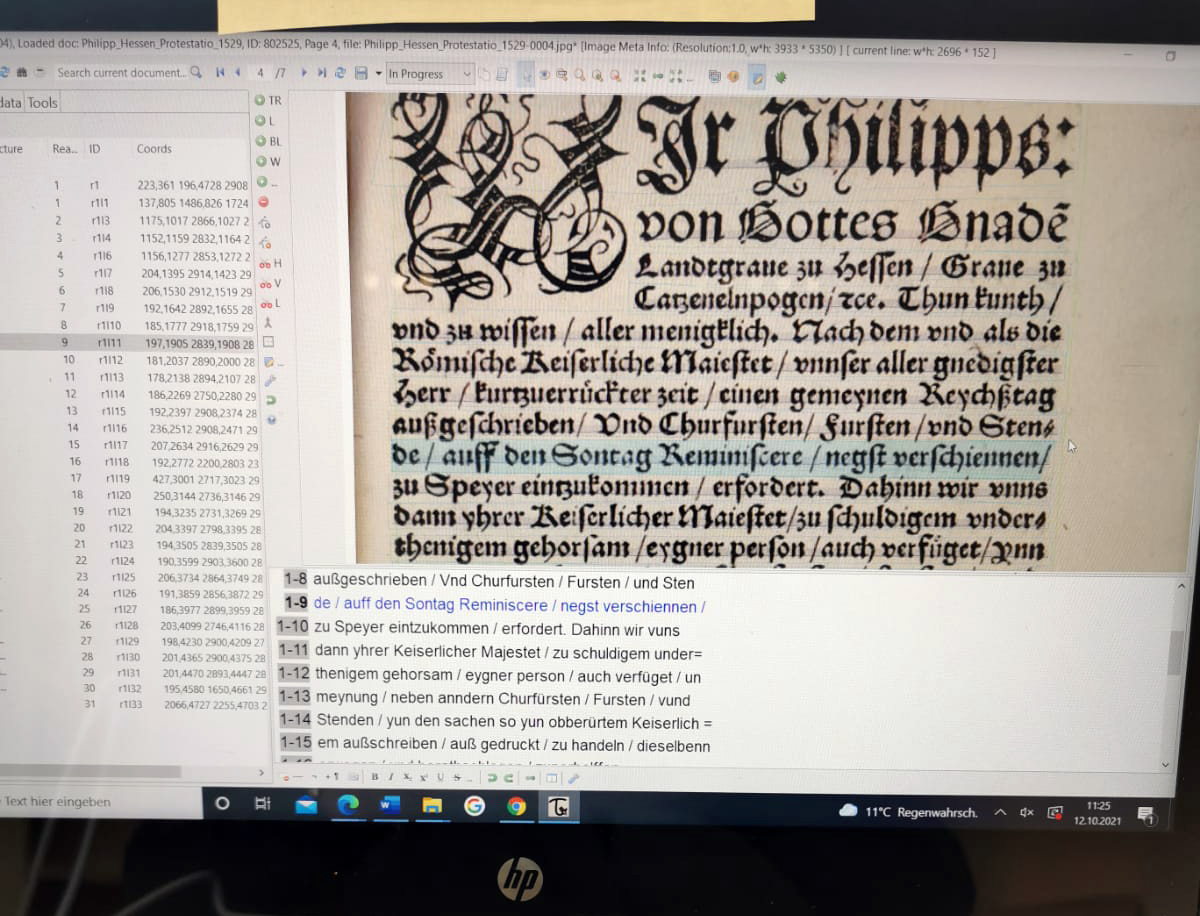 From October 11 to 15, 2021, I completed a Snapshot-Internship at a research project at the Academy of Sciences and Literature Mainz, which I found very interesting and enjoyable. Dr. Voigt-Goy from the project "European Religious Peace Agreements - A Digital Edition (EuReD)" gave me a friendly welcome and, together with Marion Bechtold-Mayer, introduced me to their research over the course of the week. More on the project, such as the description, project leads and partners, can be found here on the Academy website. The project, which is scheduled to last 21 years, is still in its early stages. Its goal is to transcribe and edit all written and printed documents on religious peace laws between 1485 (Kuttenberger Landtagsabschied) and 1791 (Constitution Française), and to make them digitally accessible to the research community.
---
Human Bonding from a Psychoanalytic Perspective: Relevance for Health and Society

In January 2021, the Q+ seminar "Human Bonding from a Psychoanalytic Perspective: Relevance for Health and Society" took place in a digital format, due to the pandemic. The psychologist and psychotherapist Dr. rer. physiol. Anna Herrmann and the specialist for psychosomatic medicine and psychotherapy Dr. med. Irina Tavlaridou offered a transdisciplinary approach to the medical and psychological fundamentals of human bonding.

Humans are social beings and can only survive as part of a community. That is based on interpersonal bonds, which everyone forms from birth with the humans in their environment. Already at the infantile age, a strong bond exists between the child and their primary caregivers, the significance of which has been proven through, for example, the still-face experiment developed by Edward Tronick.
---
What Will We Eat in the Future? A Scientific and Critical Look at Trends and Possibilities
"Is this edible? Is it still good or does it go in the trash? That's unhealthy! I can't tolerate this kind of food!" Everyone knows this kind of comment, but what's behind it? In the seminar "What will we eat in the future? A scientific and critical look at trends and possibilities" with Prof. Vilgis from the Max-Planck-Institute for Polymer Research, we approached these and many other questions.
On December 2nd, 2020, we met with Prof. Vilgis outside the MPI building to get acquainted ahead of the seminar. He surprised us with a box full of books he had written about the topic of nutrition. We had the choice between the more political book Einfach essen ("Simple Eating") and the basic theoretical book Biophysik der Ernährung ("Biophysics of Nutrition"). Afterwards, we talked about our motivations for taking a seminar on the topic of nutrition. With a book in our hands and excitement in our heads, we returned home.
---
Move on. But how? Summer School South Tyrol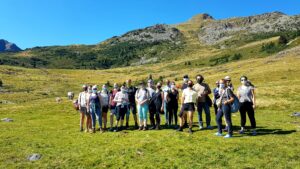 In early September 2020, six Q+ students had the opportunity to take part in the Südtirol Summer School, which takes place every year at Castle Velthurns near Brixen, Italy. The Summer School was co-organized by Maxi Obexer, who has been a guest of Q+ several times. This year's topic was "Move on. But how?"
The fact that this year's Summer School happened at all is a testament to the hard work of its organizers, who fought to realize the event against all odds. After the severe toll the Corona pandemic took on the South Tyrol region, the Summer School shifted focus to explore what solidary action can look like now...
---
"Space of Difference": Field Trip to Bauhaus Dessau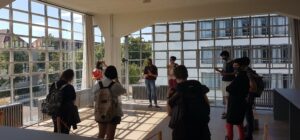 What is Bauhaus, beyond a significant style of architecture? Bauhaus stands for an aesthetic of lines and colors. Bauhaus is a revolutionized lifestyle of functionality. Bauhaus is also a gathering of students and Bauhaus masters towards the goal of creation. This last point also describes the Q+ course "Space of Difference" ("Raum der Unterschiede"), a field trip to Bauhaus in Dessau, which was realized as an Open Studio in cooperation with the Mainz Academy of Arts and Bauhaus Dessau. As part of a Q+ course, our small group of students from various disciplines such as law, translation, art, and sociology traveled to Dessau in July 2020, where we visited the Bauhaus Building and the Bauhaus Museum over the course of two days.
...continue reading
---
Past but Still Present: The Art of Dramatic Literature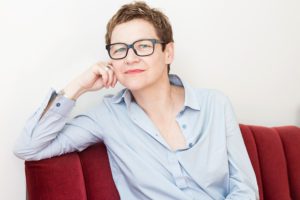 "Theater plays originally serve the function of asking the pressing questions that trouble society."
This quote is from the manifesto of the New Institute for Stage Writing, which Maxi Obexer and Sasha Marianna Salzmann founded in 2014. The author, teacher, fighter for justice, and thinker Maxi Obexer has taught in the US and Germany, received multiple prizes for her works, and taught a Q+ workshop titled "Past but Still Present: The Art of Dramatic Literature" in October 2019. After her most recent theater project "Lost Fighters: The End of the Red Army Faction" premiered at the Wiesbaden State Theater in April 2019, she once again worked with Q+ students from various academic disciplines. The workshop dealt with the art of portraying the past in the present, and explored the political aspirations of dramatic art.
...continue reading
---
Searching for the Higgs-Boson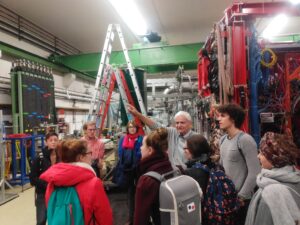 On November 4th, 2019, the Institute for Nuclear Physics at JGU opened its gates for students of very different subjects. As part of the Q+ program, physics student Saskia Plura and Konrad Kleineidam moderated a day's event for a group of 16 students. For an unusual touch, none of the students had previous possessed academic knowledge of nuclear physics, but at the end of the day, all participants admired the Mainz Microtron (MAMI) with a new appreciation of its inner workings.
The event began in the lobby of the Institute for Nuclear Physics. It quickly became clear that few students had taken high-level physics at school, and that quite were from the humanities. Still, the group showed a great interest in physics. Dr. Jürgen Ahrens from the Institute for Nuclear Physics taught a theoretical introduction, and showed himself impressed by the range of questions from students.
...continue reading
---
Q+Reads with Morgan Jerkins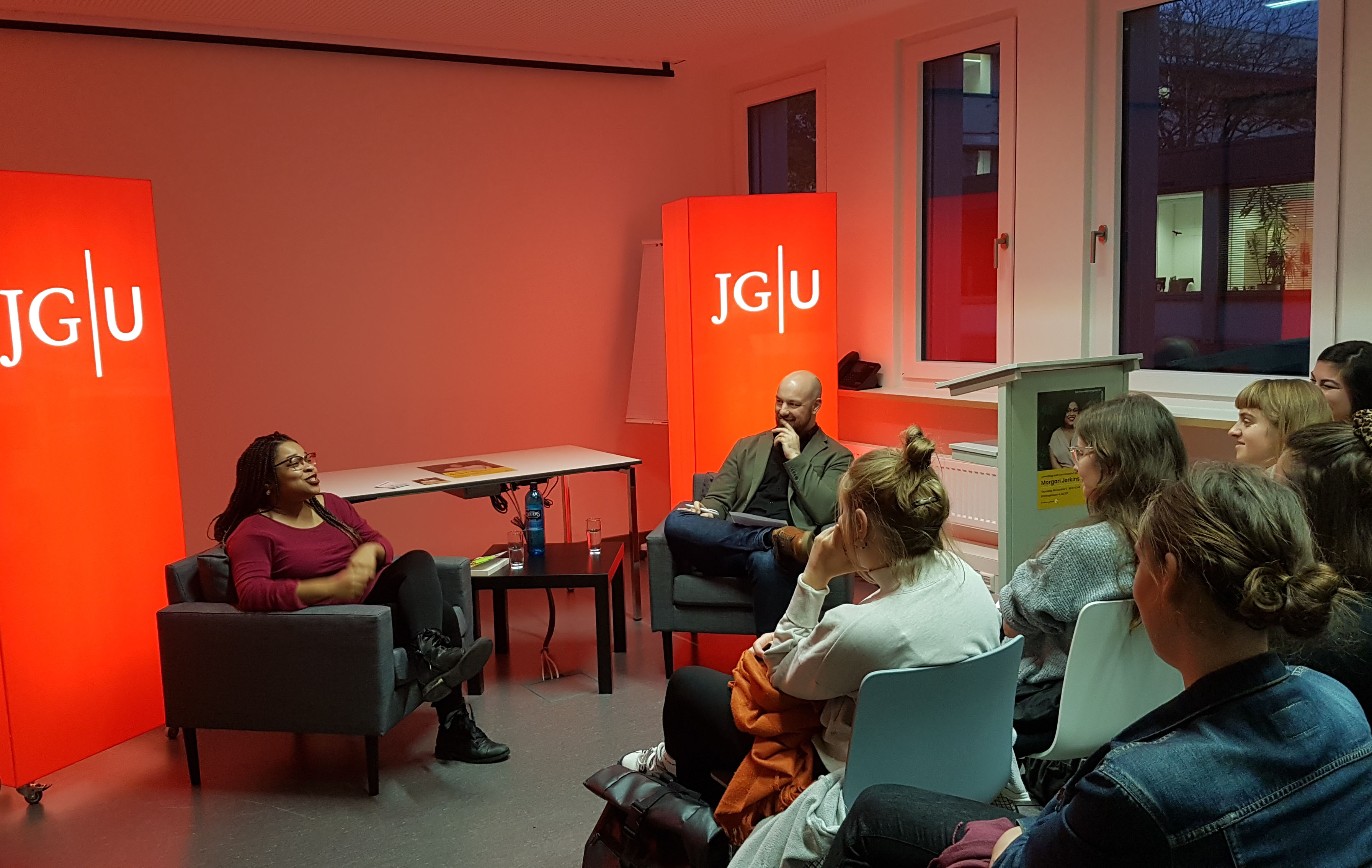 As part of the course Q+Reads, we were fortunate to welcome the author Morgan Jerkins, who is the current Picador Guest Professor at the University of Leipzig. With her debut memoir This Will Be My Undoing: Living at the Intersection of Black, Female, and Feminist in (White) America (Harper Perennial, 2018), she offered us insight into the experiences of a young African American woman travelling various countries and immersing herself in their cultures. Jerkins takes her readers into starkly different worlds, on a trip to Saint Petersburg, for example, where we find ourselves in numerous unpleasant situations, whether in elevators, subways or dive bars.
...continue reading
---
Q+ Students Conference: Lectures, Workshops and Wine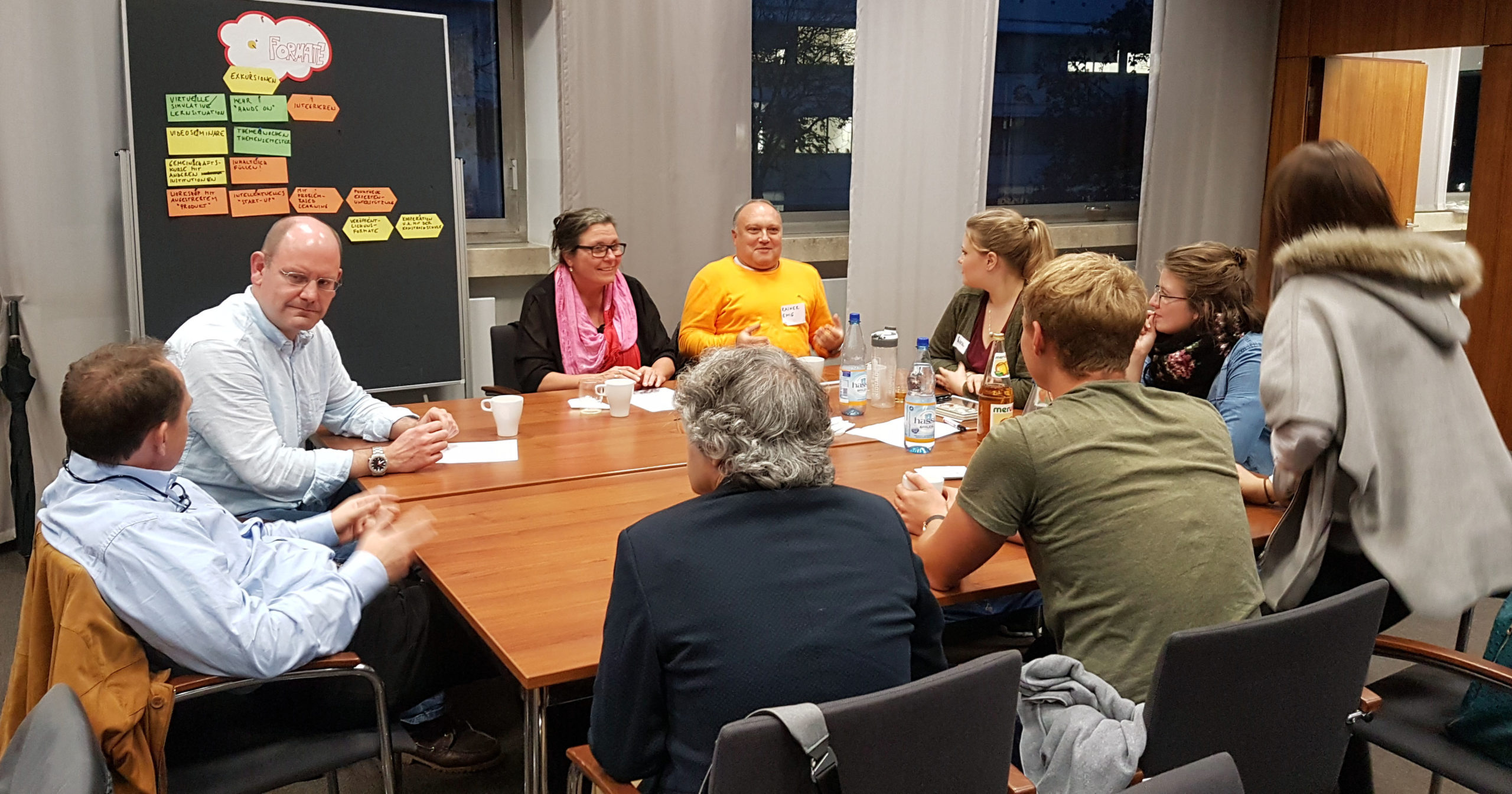 At the start of the Q+ Students Conference on October 24, 2019, the Q+ project lead gave a report on the current state of the program. Since the beginning of the trial phase in the winter semester 2017/18, 191 students from all faculties have taken part, and 105 instructors and 14 external partners have organized 168 courses and events with the Q+ team.
A preview on an international exchange, scheduled to begin in 2020, followed. The groundwork has been laid with agreements between Q+ and universities and research institutes in Japan. Q+ students from Mainz will have the opportunity to visit the German Institute for Japanese Studies in Tokyo, the School of Interdisciplinary Science and Innovation at Kyūshū University, Fukuoka, or the Institute of the Liberal Arts at Dōshisha University, Kyoto.
...continue reading
---
Game of Tones: The Cognitive, Motivational and Social Aspects of Marketing Art Music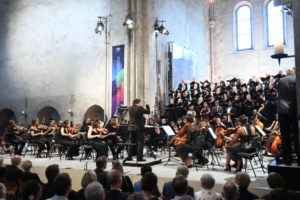 This unique, multi-part Q+ event addressed the wide range of perspectives on art music (also known as serious or cultivated music, in contrast to ordinary, folk, or popular music). Students from English, book studies, ethnology, history, communication studies, art history, mathematics, musicology, journalism, and economics took part.
We spent two full block-seminar days on the economic, cultural and aesthetic perspectives on the marketing of e-music with Prof. Oliver Emrich, Professor of Management in Faculty 03 at the JGU, and Jana-Verena Gerhart, a research associate also in Faculty 03. During our analysis, we considered the key players, including the sender (composer, curator, musician, conductor) and the recipient (the consumer or concert goer) and attempted to better understand the mechanisms of the market for serious art music. This encompassed developing concrete marketing strategies for art music.
---
Q+Reads with Josh Weil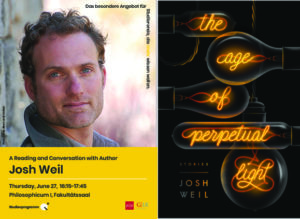 On June 27, 2019, author Josh Weil visited the JGU as part of the Q+Reads reading series. Josh Weil, who is currently the Picador visiting professor of literature at the University of Leipzig, read from his collection of short stories entitled "The Age of Perpetual Light." He then took questions from the audience, discussing the recurring themes that appear in his stories and his working style as a writer. The next day, he led a creative writing workshop for Q+ students.
I am an avid reader but I do not write, and this is why I found it so interesting to get concrete methods for writing stories or even entire books directly from an author who also teaches literature. During the workshop, we did several exercises, including crafting a plot and brainstorming. This gave us a sense of how the writing process unfolds – from the first idea to the finished book.
---
A World Free of Plastic: Blessing or Curse?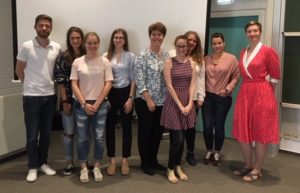 In the summer of 2019, the topic "A World Free of Plastic: Blessing or Curse?" was discussed as part of a Q+ course led by Prof. Dr. Katharina Landfester, Prof. Dr. Kurt Kremer and Prof. Dr. Thomas Vilgis of the Max Planck Institute for Polymer Research. This topic, which is largely one-sided in the general discourse yet deserves differentiated consideration, was given just that during six sessions. The seminar covered this topic in detail, and not without controversy. Students from biology, chemistry, educational science, human medicine, art history, philosophy, physics, political science, and psychology took part.
---
Touring the European Central Bank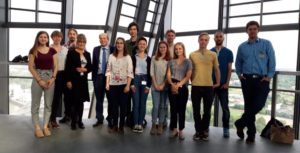 For this exciting Q+ event, 12 students from educational science, biology, computer science, physics, political science, journalism, sociology, and economics toured the European Central Bank and attended an expert panel discussion. Mark Schäfer, who is currently working on his dissertation on monetary policy (e.g. on the effects of globalization on traditional monetary channels) in the Faculty of Law, Management and Economics at the JGU, provided us with background on the European Central Bank (ECB), with a focus its monetary policy. In a very lively and at times also controversial discussion, we learned about the aims and operational framework of the ECB, the implementation of monetary policy, and mechanisms of transmission. We also discussed the current challenges facing the ECB as well as criticisms of the institution's policies, including zero or negative interest rates, cooperation with the finance ministers of the Eurozone (the so-called "Eurogroup"), and much more.
---
Theater Project: "Lost Fighters - From the End of the Red Army Fraction"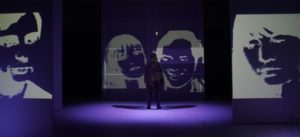 Together with director Clemens Bechtel (Friedrich-Luft prize-winner, Berlin), playwright Maxi Obexer (Eurodram- and Geisendörfer prize winner, Berlin), dramaturge Susanne Birkenfeld, and the ensemble of the Hessian State Theater of Wiesbaden, Q+ students studied the background, context, and facts surrounding the theatrical play "Lost Fighters – From the End of the Red Army Fraction", which premiered on April 28, 2019. Historian Dr. Caroline Klausing and Dr. Verena von Wiczlinksi (Faculty 07 at the JGU) both served as academic mentors on this exciting Q+ project. The trailer for this play at the Hessian State Theater of Wiesbaden can be viewed here.
(Photo: Paul Simon, Foto: Karl & Monika Forster, Credit: Hessian State Theater of Wiesbaden)
---
ZDFzoom Research Internship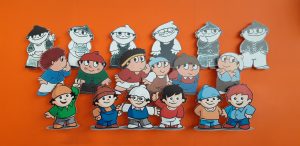 In cooperation with Zweites Deutsches Fernsehen (ZDF, Second German Television), the Q+ Study Program provided me the opportunity to do a research internship with "ZDFzoom," a documentary show on ZDF. This entailed work shadowing in ZDF's documentary editorial department, which is situated within "Politik und Zeitgeschehen" (Politics and Current Events), the main editorial division. ZDFzoom's investigative reporting covers topics of societal relevance in domestic policy but also foreign affairs. These 30-minute documentaries are aired every Wednesday at 10:45pm.
My main assignment during this internship was to investigate topics relating to daily life and society. I did extensive research on Hartz IV (a social welfare program in Germany), which is currently a very controversial topic. Other topics of my research included problems in Australia's wool industry and abuse in the Catholic Church. This research on the Catholic Church was part of the preliminary for the documentary "Abschottung oder Aufbruch" ("Sealing Off, or Breaking Free"), which can be viewed at this link.
---
Q+ Fireside Chat with Professor Dr. Dr. h.c. mult. Horst Hippler, former President of the Hochschulrektorenkonferenz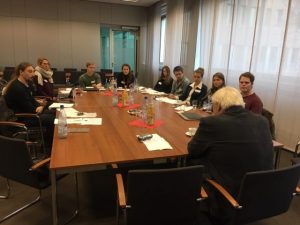 As part of the seminar titled "Research, Publishing, Quality Assurance, and Costs," we were given the opportunity to have a (rather relaxed) scholarly discussion with a well-known and polarizing representative of the German academic system: our guest at the Q+ Fireside Chat on November 16, 2018 was Dr. Dr. h. c. mult. Horst Hippler, the long-standing former president of the Hochschulrektorenkonferenz (German Rector's Conference).
Prof. Hippler first provided a short overview of the emergence and development of German universities, the exportation of the Humboldtian concept of the university around the world, and the current state of the university both in Germany and internationally. Prof. Hippler focused on copyright law in scholarship and digitalization in particular.
---
Resilience - Reacting to and Dealing with Stress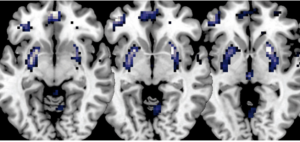 The Q+ Workshop "Resilience – Reacting to and Dealing with Stress" was held by Prof. Beat Lutz, academic managing director of the German Resilience Center in Mainz, and Prof. Raffael Kalisch, director of the Neuroimaging Center in Mainz. 12 Q+ students from the departments of American Studies, visual arts, German, English, educational science, Catholic religious studies, linguistics, music, philosophy, physics, Spanish, and law took part in the Workshop. At the beginning of the workshop, we tried get to the bottom of the scientific concept of resilience by looking at it from interdisciplinary perspectives, including those from neurological research, psychology, behavioral science, and neurobiology.
---
Q+ Seminar "The Aesthetics of Violence" with Professor Dr. Dr. h.c. mult. Hans Ulrich Gumbrecht of Stanford University (USA)
Whether it is an accident on the highway, at the movie theater, or in a sports arena: evidence for fascination with violence can be found in the most diverse areas of human life. In his seminar titled "The Aesthetics of Violence," Professor Gumbrecht of Stanford University took a close look at this fascination together with 10 Q+ students. The interdisciplinary dynamic of the group – including students from the fields of English literature, American studies, German studies, mathematics, music, physics, journalism, sociology, sport science, and economics – created a highly productive atmosphere for discussion that took even the internationally renowned U.S. scholar by surprise.
---
Student Forum on European Political Cultures at Villa Vigoni

From September 16–19, the German-Italian Student Forum "Political Cultures as Part of Europe's Cultural Heritage – Internal Divergences and Global Perspectives" was held at Villa Vigoni e.V., located on Lake Como in Italy. Six Q+ students were selected on the basis of an internal application process, and they joined another 20 students invited by Villa Vigoni to attend the conference, each bringing with them their interdisciplinary perspectives. The three-day conference, which has been held at Villa Vigoni for the past seven years, encourages dialogue between German and Italian students on the most important topics facing their countries, as well as on topics of relevance to Europe and the international sphere.
---
Visit to "Small Gifts" Concert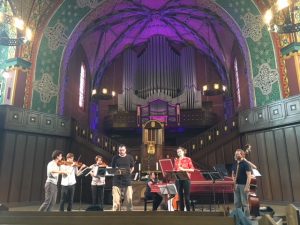 Q+ students attended a concert called "Small Gifts" in Wiesbaden on July 13th. As part of the Rheinau Music Festival, performances were given in the Lutherkirche (Luther's Church) by Andreas Scholl, an acclaimed, internationally renowned countertenor, Dorothee Oberlinger, a flautist and professor of early music, and Ensemble 1700, a European chamber music group.
In an introductory seminar held by musicologist Dr. Gabriela Kromach, we got an overview of the baroque era and the historical practices of performance, and learned, among other things, how the concert came to be called "Small Gifts." The name of the concert refers to a letter by Bach in which he described music as a small gift. We also got an introduction to the pieces by Bach, Handel, and Vivaldi that would be performed, as well as their biographies and the typical stylistic elements of their music.
---
Reading and Workshop with Rajesh Parameswaran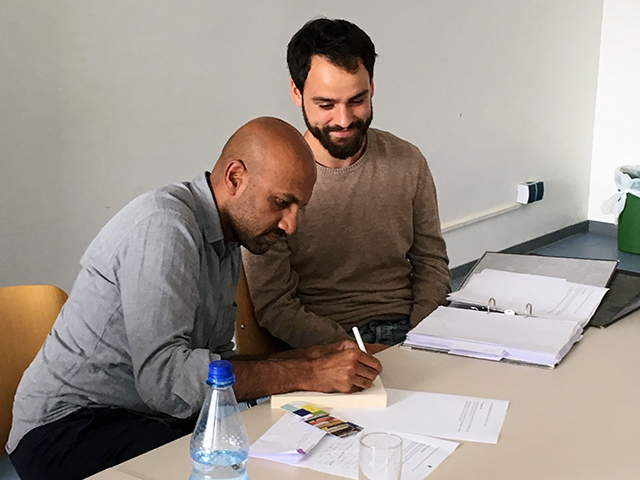 On 14 July 2018, Q+ invited American author Rajesh Parameswaran to give a reading at the Philosophicum. The author read from his highly praised collection of short-stories "I Am an Executioner" before an intimate, diverse group of audience members. After the reading, Parameswaran was available for further discussion in a question-and-answer session. The audience gladly seized on the opportunity to ask numerous, thoughtful questions to which the author responded with considered answers. Every comment from the audience was appreciated, and rewarded, with a detailed, well-thought out response from the author.
On the following day, the participating Q+ students met with Rajesh Parameswaran again, this time in an even more intimate setting. Under the guidance of Christian Knöppler and Lena Krian, the students did a creative writing exercise along with the author, who enthusiastically took part.
---
"Spotlight on Die Junge Akademie". Participating in an Assembly of Scholars at the AdW Mainz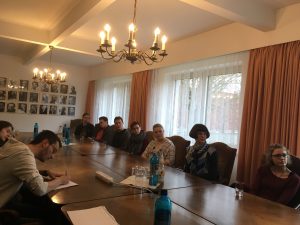 On April 13, 2018, Q+ visited the Akademie der Wissenschaften und der Literatur Mainz [Academy of Sciences and Literature Mainz]. Participants were warmly welcomed by Prof. Dr. Claudius Geisler, General Secretary of the Academy, who gave the group a tour through the Academy's gracious facilities and told them all about the exciting activities and wide-ranging areas of research taking place at the Academy.
After this, the Q+ participants were able to attend the assembly of scholars, during which four members of Die Junge Akademie an interdisciplinary group of outstanding early career researchers from a wide range of disciplinary backgrounds funded by the Academy, presented their latest research findings. This gave Q+ students a unique opportunity to hear fascinating talks from extremely different disciplines, including psycholinguistics, archaeology, functional morphology and biomechanics, and philosophy.
---
Q+Field Trip to the German Primate Center in Göttingen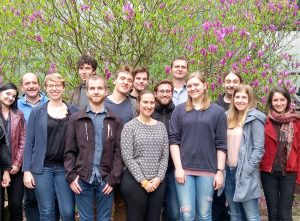 In the context of the Q+ course "Stem Cell Therapy for Heart Disease – Animal Testing and the Creation of Scientific Findings for Humanity," Q+ organized a field trip to Göttingen to visit the German Primate Center.
The German Primate Center GmbH (GPC, founded 1977) is an independent, service-oriented research institute for the German scientific community. It is a member of the Leibniz Association and is financed in part by the federal and state governments of Germany.
At the GPC, we were greeted by Prof. Rüdiger Behr, Dr. Gerrit Hennecke, and Dr. Susanne Diederich, who spoke with us about the ethical and scientific implications of experimental animal research using non-human primates.
---
Q+ Project with Technische Hilfswerk Mainz (THW) –
"Societal Cohesion Up Close – Experiences at the THW Mainz"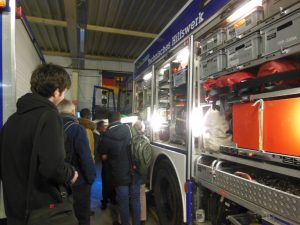 Text and Photos: Léonard Palm studies journalism and art history at Johannes Gutenberg University Mainz.
Across the country, Germany's "social cohesion" has suddenly come under threat by hate and hostility. The Minister of the Interior even saw himself as compelled to make this a personal issue . This strife is not surprising: how can people stand together when they do not even know each other? How lonely it must be at first for refugees who are thrown, unprepared, into a foreign country with a foreign language? It is a lonely life in Germany. Integration, whether for German nationals or foreigners, is not a given: it is something that requires conscious action.
---