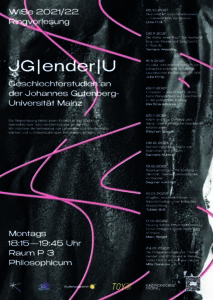 The public lecture series "JG|ender|U – Gender Studies at JGU", offered for the first time during the winter semester 2021/22, showcased the work of researchers from different disciplines across JGU on the subject of gender. The goal of the series was to highlight and discuss different perspectives on gender studies at Mainz, as well as stimulate a public debate, network instructors and students, and raise the topic's profile. This first lecture series is to serve as a foundation, to be expanded upon in the future. The next lecture series is already in development.
After an introductory session led by Julia Reichenpfader, which familiarized the students with the concept of intersectionality and invited them to reflect on their own points of intersection, nine lectures by researchers inspired spirited discussions.
The lectures started with Livia Prüll (Medicine), who gave a lively and personal talk on "Diversity in Healthcare – Trans Identity as an Example," explaining the necessity of a gender sensitive primary care. Yamara Wessling (Ethnology and African Studies) reported on her research in Ruanda, inquiring about the "Values of a Woman?" and the negotiation of class and gender. Julia König (Educational Sciences) showed post cards from around 1900 and opened a discourse on "Concepts of Gender in Colonial-Racist Caricatures." Next, a theoretical impulse from Elia Scaramuzza (Political Science) followed, focusing on "Non-dichotomous Perspectives on Gender in Political Education." With the terms equality, difference and deconstruction, more instruments for the description of the gender order were introduced. Stephan Goertz (Catholic Theology) spoke about this order within the Catholic church and pointed out its constructed character, and current debates within the church were discussed afterwards. Damaris Nübling (Linguistics) addressed "Gender Linguistics beyond Asterisk and Capital I," offering remarkable insight into gendering name giving and decisions (e.g. marriage). Dagmar von Hoff (Literary Studies) spoke about "Changing Gender Constructions" and expanded the terminology introduced by Scaramuzza with "Representation, Performance, and Identity," which she located in feminist studies. We learned more about Ulrike Ottinger's "Queer Aesthetics of Stasis" from Marc Siegel (Film Studies), who discussed Ottinger's work in the context of political activism. Mita Banerjee (American Studies) focused on "Phenomenology of Privilege: Gender and Whiteness in Raoul Peck's Film I am not your Negro" and returned to our initial discussion of intersectionality and privilege.
In the final session, discourses were connected and ideas were exchanged. The Q+ students used the lectures as impulses to develop their own creative thoughts. Some of the papers can be found here (in German):
Julia Berger: "Gedankenstrom"
Emilia Bub: "Geschlecht zählt!? Ein Kommentar zu Trans-Exclusionary Radical Feminism in Deutschland"
Tabea George: "Was Blackfishing mit Kolonialismus zu tun hat"
Sarah Heier: "Bildergeschichte"
Sonja Husemann: "Selbstreflexion im Spiegelkabinett"
Kamila Kossakowska: "Gender und Beruf: Gleichstellung der Frau als Herausforderung der heutigen Gesellschaft"
Klara Pippart: "Alte Mauern und neue Geschichten"