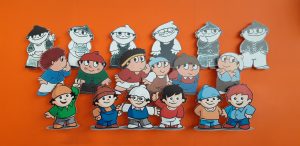 Report by Janika Kunzmann, Bachelor's degree student in her 9th semester of ethnology and 8th semester of linguistics
In cooperation with Zweites Deutsches Fernsehen (ZDF, Second German Television), the Q+ Study Program provided me the opportunity to do a research internship with "ZDFzoom," a documentary show on ZDF. This entailed work shadowing in ZDF's documentary editorial department, which is situated within "Politik und Zeitgeschehen" (Politics and Current Events), the main editorial division. ZDFzoom's investigative reporting covers topics of societal relevance in domestic policy but also foreign affairs. These 30-minute documentaries are aired every Wednesday at 10:45pm.
My main assignment during this internship was to investigate topics relating to daily life and society. I did extensive research on Hartz IV (a social welfare program in Germany), which is currently a very controversial topic. Other topics of my research included problems in Australia's wool industry and abuse in the Catholic Church. This research on the Catholic Church was part of the preliminary for the documentary "Abschottung oder Aufbruch" ("Sealing Off, or Breaking Free"), which can be viewed at this link.
After doing a great deal of research and working closely with the editors, I created a dossier on the range of important topics surrounding Hartz IV. I worked through the constellation of questions it raises from a variety of angles. Beyond this research, I also got a glimpse into how documentaries are produced at ZDF, including the different steps of production ranging from synchronization and editing to shooting. The internship also gave me the chance to get acquainted with the social media department, and to write some posts for ZDFzoom's Facebook site. I was able to arrange to spend time in another editorial department, which was how I spent a day at the news program "heute – in Europa" (Today in Europe). The framework of the internship offered a number of opportunities, and I was able to directly contribute to the organization of my internship. Participating in the weekly meetings at ZDF's main editorial division "Politik und Zeitgeschehen" (Politics and Current Events) and the ZDFzoom editorial department gave me fascinating insights into the work people are doing there, as well as the process of coming up with topics. At these meetings, the previous programs and thematic suggestions for upcoming shows were discussed – and my input as a student intern was also requested.
The internship provided me an exciting, insider view into the world of journalism. The experience added to my professional development, and I was also able to hone my research skills. Working with the team of ZDF staff members and other interns was a lot of fun, and I enjoyed sharing my ideas and discussing current topics with them.