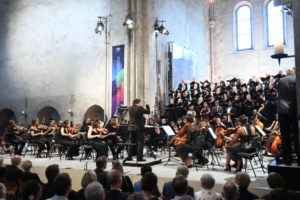 This unique, multi-part Q+ event addressed the wide range of perspectives on art music (also known as serious or cultivated music, in contrast to ordinary, folk, or popular music). Students from English, book studies, ethnology, history, communication studies, art history, mathematics, musicology, journalism, and economics took part.
We spent two full block-seminar days on the economic, cultural and aesthetic perspectives on the marketing of e-music with Prof. Oliver Emrich, Professor of Management in Faculty 03 at the JGU, and Jana-Verena Gerhart, a research associate also in Faculty 03. During our analysis, we considered the key players, including the sender (composer, curator, musician, conductor) and the recipient (the consumer or concert goer) and attempted to better understand the mechanisms of the market for serious art music. This encompassed developing concrete marketing strategies for art music.
On the third block seminar day, cellist Daniel Geiß, who is a lecturer at the University of Music Mainz and a member of the orchestra of the Bayreuther Festspiele (Bayreuth Festival), described to us how the artistic process behind art music takes place. With his real-world experience as a working cellist on the international circuit, Daniel Geiß gave us a fascinating glimpse into how concerts are put on and festivals are planned. He even taught us a bit of conducting.
After this, we had engaging fireside chats with two music managers, each of whom represented very distinct types of art music organizations. First was Carole Friedman from Boston, Massachusetts, who served for two decades as Managing Director of the Boston Baroque Orchestra and who, together with artistic director and conductor Martin Pearlman, helped make the orchestra one of the leading baroque ensembles in the United States, earning several Grammy awards in the process. In a very entertaining and sometimes humorous discussion, we spoke in English with Carole Friedman, who took the stance that art music fulfills a kind of "educational mission." Art music allows us mortals to come into contact with the "universe," and shows us how "existence" is something far greater than ourselves.
On the other side of the spectrum, Marsilius Graf von Ingelheim, Managing Director of the Rheingau Music Festival (RMF), shared with us his perspective as a festival organizer of art music. The RMF is the largest art music festival in Europe organized solely with private funds. For Graf von Ingelheim, art music and its creators should be evaluated above all from an economic standpoint. Musical "experiments" such as contemporary music or political statements like the RMF's current "Courage" series must therefore be carefully considered in terms of their economic merits. Marsilius von Ingelheim also dealt very openly and constructively with critical questions, such as whether there were (content-based) limits when it comes to acquiring sponsors. Both concert managers provided us remarkably open and honest insights into their discerning work.
A very special concert concluded this Q+ event: the Bochabela String Orchestra (BSO) from Cape Town, South Africa, played the "Long Walk to Freedom" at the Kloster Eberbach. The BSO was first formed as a social initiative after Nelson Mandala was freed from prison to use art music to help provide a better life to young people from the slums and townships of South Africa. This serves as a potent example of how art music can indeed play a social role. In the magical atmosphere of the basilica of Kloster Eberbach, which was built in the 11th century, the BSO played the "Mass for Nelson" with music from Joseph Haydn (1732–1809) together with anti-apartheid songs from the freedom movement of Black South Africa. This mass for "hard times," combined with the penetrating songs of the anti-apartheid movement, touched everyone in the audience of the sold-out show. For the listeners, this special concert become an impressive statement against violence and a stand for courage. The audience showed its appreciation for this unique concert with thunderous applause and standing ovations.