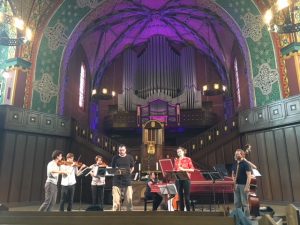 Report by Lara Grabitz (physics and chemistry)
Q+ students attended a concert called "Small Gifts" in Wiesbaden on July 13th. As part of the Rheinau Music Festival, performances were given in the Lutherkirche (Luther's Church) by Andreas Scholl, an acclaimed, internationally renowned countertenor, Dorothee Oberlinger, a flautist and professor of early music, and Ensemble 1700, a European chamber music group.
In an introductory seminar held by musicologist Dr. Gabriela Kromach, we got an overview of the baroque era and the historical practices of performance, and learned, among other things, how the concert came to be called "Small Gifts." The name of the concert refers to a letter by Bach in which he described music as a small gift. We also got an introduction to the pieces by Bach, Handel, and Vivaldi that would be performed, as well as their biographies and the typical stylistic elements of their music.
On the morning of the concert, we were given the opportunity to attend the dress rehearsal. As an amateur musician, it was a privilege to experience firsthand how a professional orchestra works together and what happens during a dress rehearsal. It was fascinating to see how even small modifications to the seating arrangement or instrumentation had a big impact on the music, as well as how the musicians consciously used the space as an acoustic body.
Afterwards, Dorothee Oberlinger was available to take questions and explained the "concept" of the concert, including why the evening would be started with a certain piece, and what the musicians were trying to evoke in the audience with this.
At 8pm, we attended the completely sold out concert in the beautifully illuminated art-nouveau Lutherkirche. During this breathtaking and inspiring performance, we were able to experience how the dynamic of the concert evolved through the musical resonance between the musicians and the audience.
The audience and us Q+ students showed the musicians our appreciation with long standing ovations.
Even though I have been listening to and playing baroque music for many years, this seminar changed my understanding of the genre. Previously, I mainly appreciated the clear structure of this music, and often listened to it in a rather straightforward, unemotional way. But after this sensitive rendition by Dorothee Oberlinger, whose dedication and love for this music was clear to see, my own approach to baroque music is now much more emotional. Instead of structures, I now hear sensations, moods, and feelings.