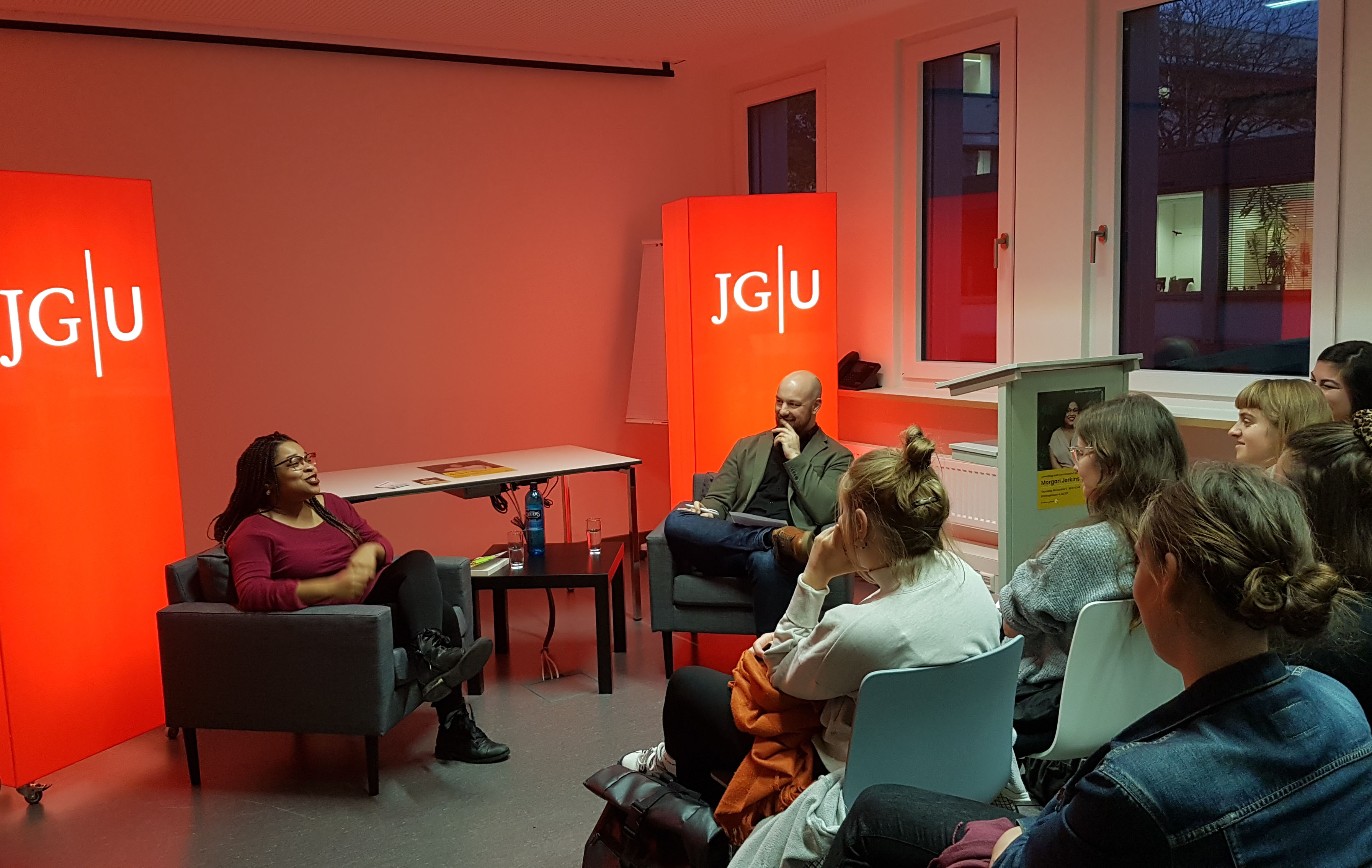 Report by Jennifer Japs, 6th Semester Psychology M.Sc.
As part of the course Q+Reads, we were fortunate to welcome the author Morgan Jerkins, who is the current Picador Guest Professor at the University of Leipzig. With her debut memoir This Will Be My Undoing: Living at the Intersection of Black, Female, and Feminist in (White) America (Harper Perennial, 2018), she offered us insight into the experiences of a young African American woman travelling various countries and immersing herself in their cultures. Jerkins takes her readers into starkly different worlds, on a trip to Saint Petersburg, for example, where we find ourselves in numerous unpleasant situations, whether in elevators, subways or dive bars.
She shows us new perspectives in Japanese neighborhoods, where we visit small shops with her. And then she offers us a seat on the subway, which takes us from Brooklyn to Harlem while we learn about Jerkins's impressions on this side of the globe. This way, we experience the stages of becoming a writer who, thorough the diverse facets of her personality, unites different roles that might as well be at odds with each other. This wealth of impressions resonated with the audience at JGU Mainz, which led to a lively debate after the reading.
In preparation for the reading, the Q+ students had already familiarized themselves with the themes of Jerkins's writing. These are highly topical: Jerkins not only deals with personal issues like her own background and anxieties, but also with social issues and her perspective on gentrification, police violence, and hate crimes.
On the following day, Jerkins taught a creative writing workshop, where she relayed methods for essay writing. The participants dove into various creative approaches and tools, and also discussed published essays. Though the study of positive and negative examples, they learned what makes a successful essay. This way, the workshop not only gave the Q+ students a toolkit to facilitate essay writing, but also imparted an appreciation of exceptional literary works and offered an unforgettable exchange of experiences.